Hello friends! Its Jennifer on the blog today to share a layout I  created with the very beautiful Simple Vintage My Valentine collection! The prints are soft with gorgeous florals and whimsical hearts.  You not only have the traditional red and pinks you would find in a Valentine line but also coordinating pretty light blues and greys. 
I  began by matting the B side of Be Mine to the pink and white heart print of the back side of the 2x2 Elements.  Then from the Simple Basics Kit, I cut a 7x11 piece of the Lace Dots and adhered to the center of my page to break up the type print.  Just over the top I adhered a 6 x 10.75 piece of the beautiful floral of the B side of Just A Crush.  
Before adhering my embellishments and photo, I  used a border punch on the plaid of of the B side of Love Struck.  I  then used a strip of the gorgeous floral from the My Valentine Washi Tape.
My title is from the 6x12 Chipboard which I  layered over a ticket sticker from the Combo Sticker sheet as well as a small strip of the blue heart Washi Tape.  I  also loved the teal blue chipboard heart so I  added that for accent.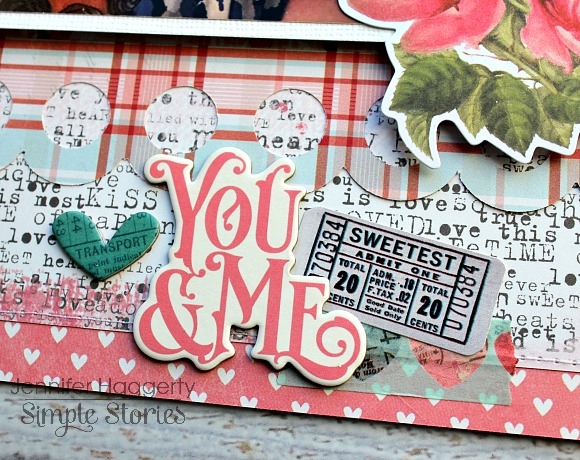 Since the Layered Frames did not fit the photo I  wanted to use, I  decided it one would be perfect to frame my journaling!  I  cut one of the cards from the 3x4 Elements and adhered it under my frame.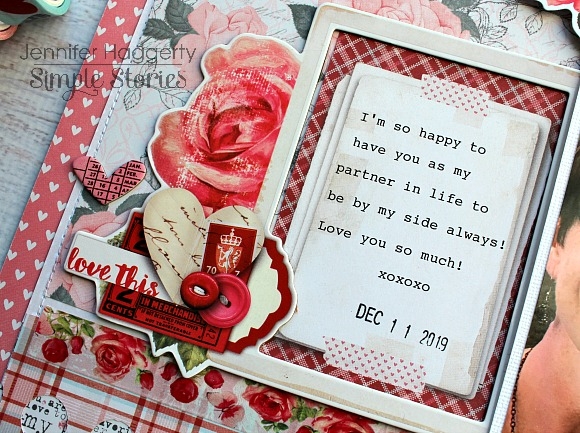 I  matted my photo onto white cardstock and affixed it with pop dots to so it would lay even with my Layered Frame. I  tucked another fun 3x4 Element under my photo then a layered this "LOVED" ticket and floral cluster to accent.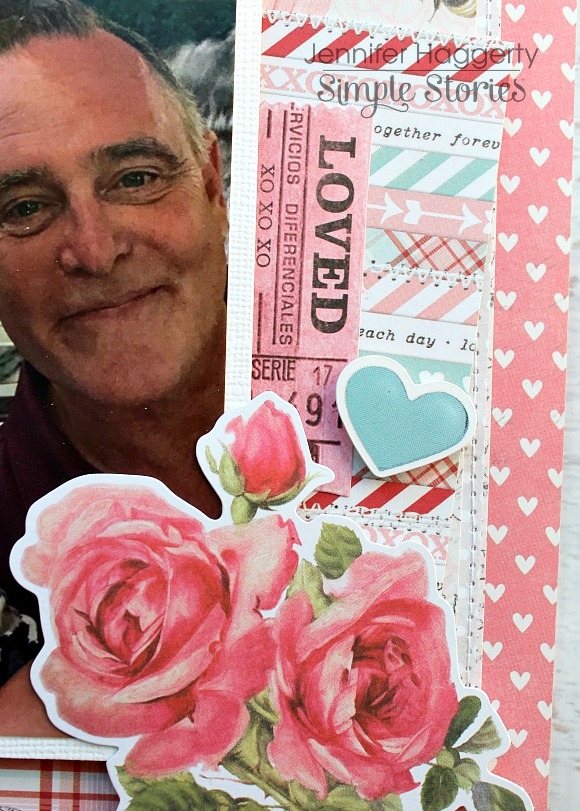 At the top left of my layout, I  added tags found in the Bits and Pieces and on the Combo Sticker sheet and affixed both upside down.  I  added bakers twine from my stash as well as popped up this beautiful die cut butterfly.  I  thought the little "all my heart" chipboard sentiment was a nice added touch.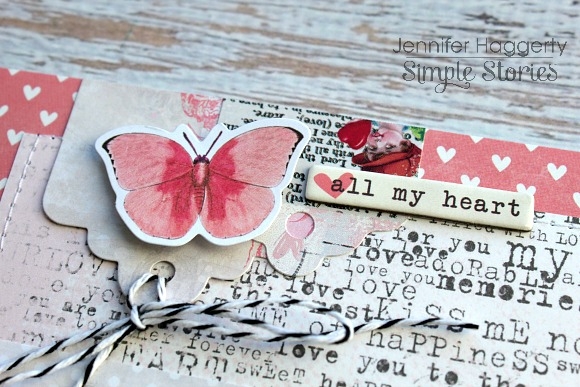 Thank you for stopping by the blog today!  See the entire Simple Vintage My Valentine collection on the Products page! While you are there, check out the newest lines Simple Stories has in store for 2020! Have a great day!